Each one of us needs that daily dose of encouragement and motivation, especially when the days are a little off. We all need a little pick-me-up when the circumstances are not favourable.
It can be that horrible thing your co-worker said to you or the wrong side of a bed that spoiled your mood. But negative thoughts never leave you alone and end up deciding the outcome of your day.
In situations like these, one needs to take care of their mental well-being so that the negative energy cannot hold you down.
Positive Affirmations are one such thing that will always have your back no matter what. To deal with those not-so- great feelings, you can make a list of positive Affirmations for courage that resonate most with you.
What Are Affirmations?
Affirmations are positive statements that help you challenge and overcome negative thoughts and feelings. Once you start following these Affirmations, you begin to see positive changes.
Positive Affirmations actually help you make changes to those areas of the brain that bring you happiness and positivity. You tend to follow a healthier lifestyle and become more positive about life.
Positive Affirmations are made to encourage an optimistic mind.
Why Do You Need Positive Affirmations?
It has been proved that positive Affirmations reduce negative thoughts and improve your mood.
They make you aware of your thoughts and feelings like nothing else, which makes it harder for negative thoughts to take over your mind.
To make it even easier for you, we have curated a list of positive Affirmations that will help you every time you feel low/ out of place. You can either write them down or take a screenshot and keep them on your phone so that you can read them easily.
Powerful Positive Affirmations For Courage
I am brave enough to take chances.
I can and will handle anything that comes my way.
My setbacks make me stronger.
I am the solution to all my problems.
All my struggles are opportunities to grow.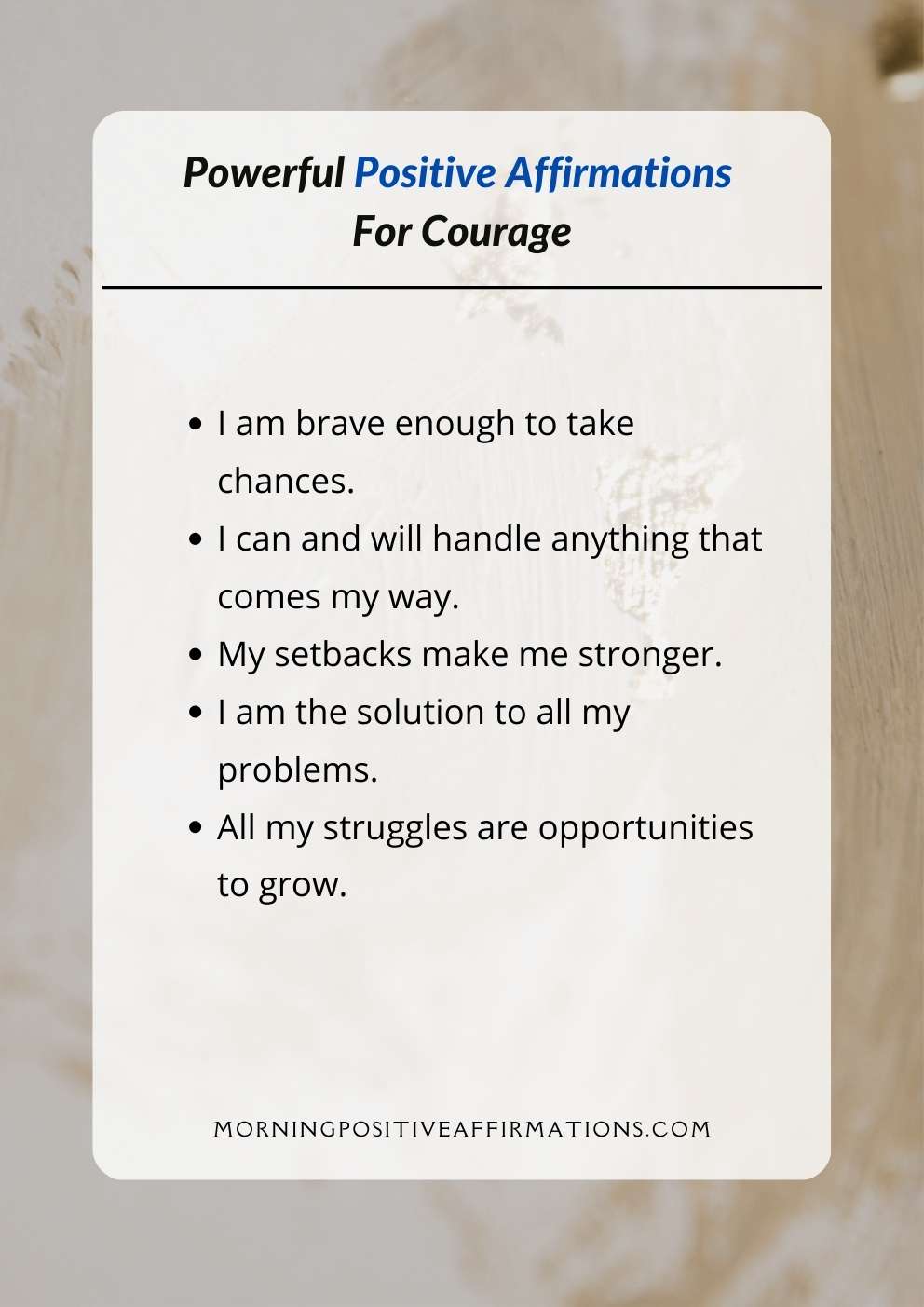 My confidence will grow and only grow.
I am strong enough to face anything.
I have gone through life before, and I will now too.
I believe in myself.
My abilities are limitless.
Positive Affirmations For Courage And Strength
I deserve to be happy.
I have all the courage to fight my problems.
I release fear, stress, and tension.
I am creating the life of my dreams.
I can do anything I put my mind to.
I look to my future with hopes and prayers.
I am doing the best I can
I am grateful for everything.
I am overcoming all obstacles and fears.
I will always move forward with no fear.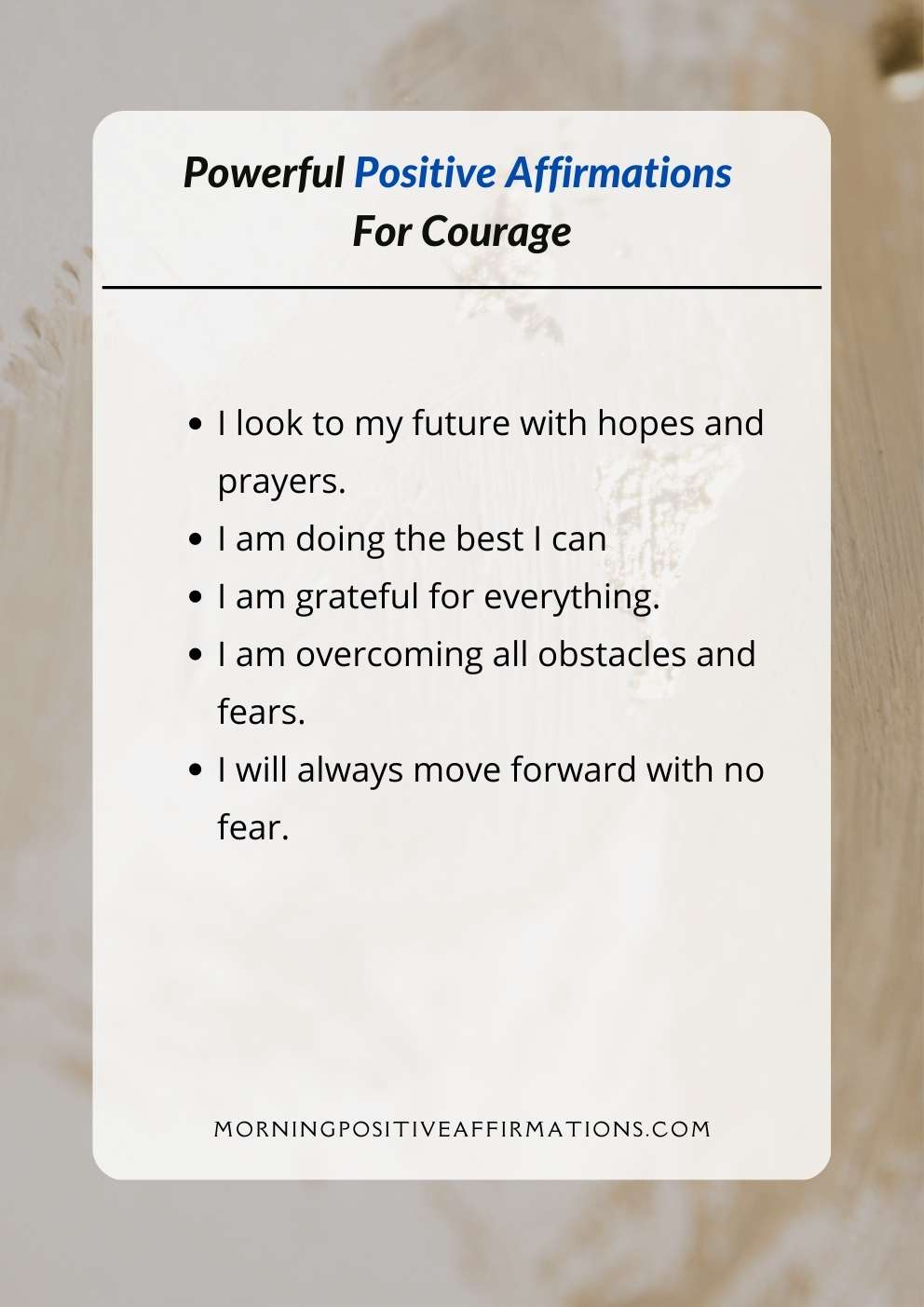 I Am Courageous Affirmations
I take in strength and take out the fear.
I am determined.
I am confident of achieving what I aspire for.
I am living fearlessly.
The universe is protecting me.
I don't pay heed to judgments about myself.
I love myself unconditionally.
My dreams and aspirations are worth fighting for.
I have all that it takes to conquer my fears.
I deserve to be happy and healthy.
I am resilient and will never give up.
I will courageously protect my happiness.
I am calm and at peace.
I am transforming my life into a happy place.
I release all self-doubts.
Morning Positive Affirmations For Courage
I feel the fear and do it anyway.
Only I have the power to change my life.
I accept myself for who I am.
I am proud to be me.
I am healing.
My life is worth fighting for.
I am overcoming all my fears by pushing through them.
I am a fighter.
I have a bright future waiting for me.
I am proud of all my accomplishments.
My life is full of beauty, strength, and love.
I have everything I need to succeed.
I am blessed for this new day ahead of me.
I will not stop chasing my dreams.
I am excited about my life.
Morning Positive Affirmations For Strength And Courage
I persist until I succeed.
My past made me even stronger.
Facing my fears is empowering to me.
I Embrace change because it helps me grow.
My enthusiasm is my power.
I Embrace the mistakes I have made because they help me grow.
I radiate great courage.
I am ready for bold adventures.
I possess the strength to deal with this.
I draw on strength from God for this.
I am filled with endless possibilities.
I am a person of great inner strength.
I've moved past doubt and fear.
I am unstoppable.
I can find positives in any given situation.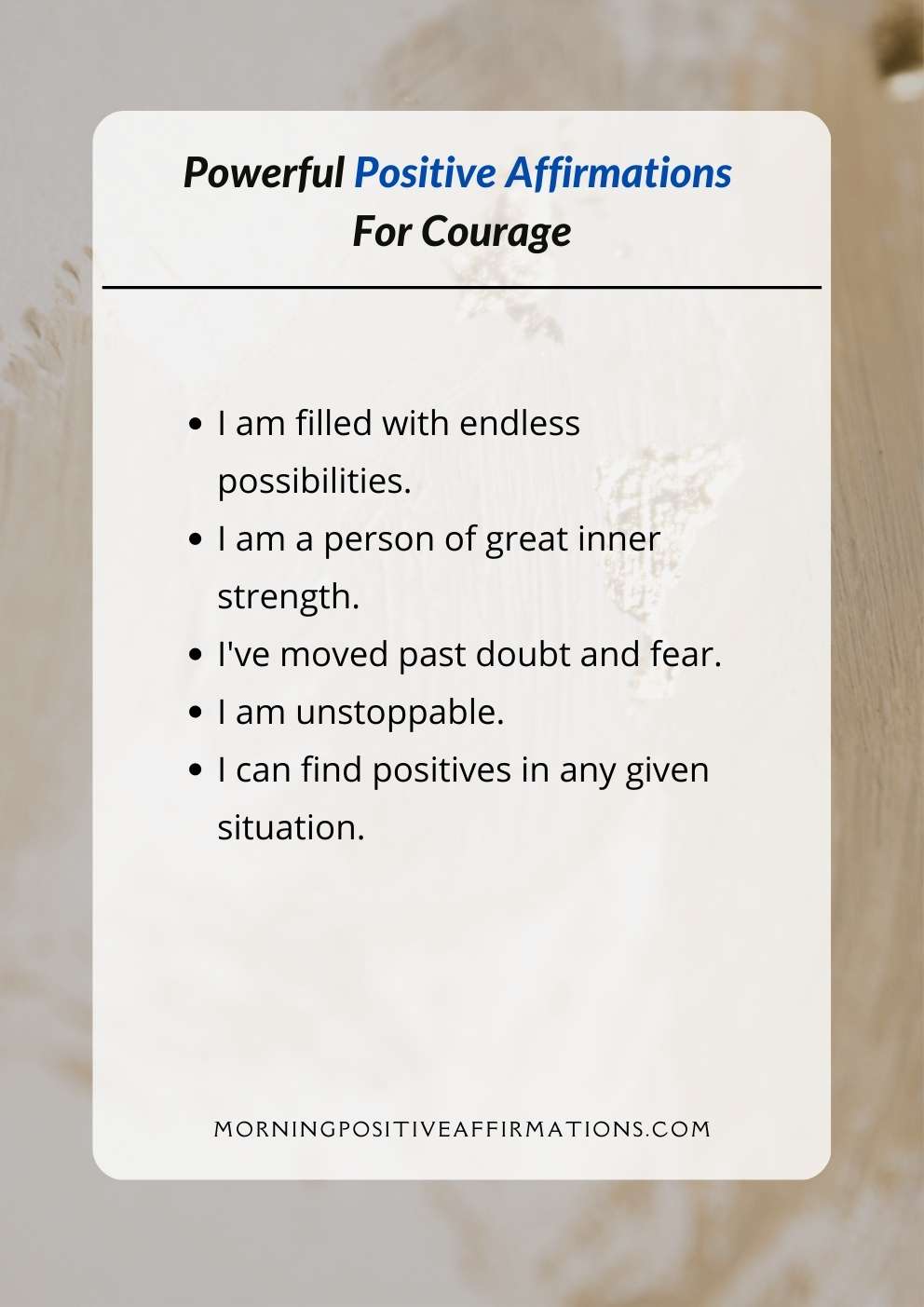 The Bottom Line
All of us feel fearful at some point in life, and it seems difficult to overcome it. You need to learn that your fear is directly linked to the levels of self-love.
The more you love yourself, the less fearful you feel. And the less you love yourself, the more engrossed in fear you find yourself.
So, Affirmations are a way to help you overcome all your fears and help you get through any difficult situations in life. But you need to keep one thing in mind: consistency is required.
You need to consistently go through your noted Affirmations and remind yourself that the only way out is through.
Also read: 50+ Morning Affirmations For Success