How do you feel when you step into a room full of unknown people or when you are visiting a restaurant for the first time? Do you feel assured that you can break the deal, or is your mind flooded with self-doubt?
Confidence is a liberating feeling in itself. It relieves you from the shackles of doubts and fears and makes you strongly believe that you will get through a situation, no matter how. People who trust and value themselves enjoy a deep sense of security and clarity in life.
However, it is no secret that not all people are born confident. Some of us lose it to certain unpleasant experiences that we've had, while others need to gradually build it. That's precisely what affirmations for confidence and self-love help you with, and hands down – it's worth making an effort.
Affirmations for Confidence and Self-love
I am truly grateful for my body, mind, and soul.
I deserve to be loved and treated with kindness.
I am meant to feel peace and love.
I trust myself in all situations.
Bad days don't define me; they make me a better version of myself.
I am beyond my insecurities.
I appreciate and revere myself.
I aim to improve every day rather than become perfect at once.
I take pride in my abilities and efforts.
I deserve kind and humane treatment.
I live my life for myself rather than pleasing others.
Failures are a part of the process, and they help me learn and grow.
It is okay to be imperfect.
I am capable of combating challenges.
Even on harsh days, I treat my body with care.
Positive Affirmations for Confidence and Self-love
I am willing to learn and grow every step of the way.
I carry positive thoughts about myself.
I like to move forward in life with an affirmative perspective.
I prioritise my well-being.
Every failure is a learning experience for me.
I am liberating myself from my past.
I remember lessons rather than regrets.
I am happy with my progress because I'm doing my best.
I take care of my health, even on bad days.
I am well aware of my flaws and strengths.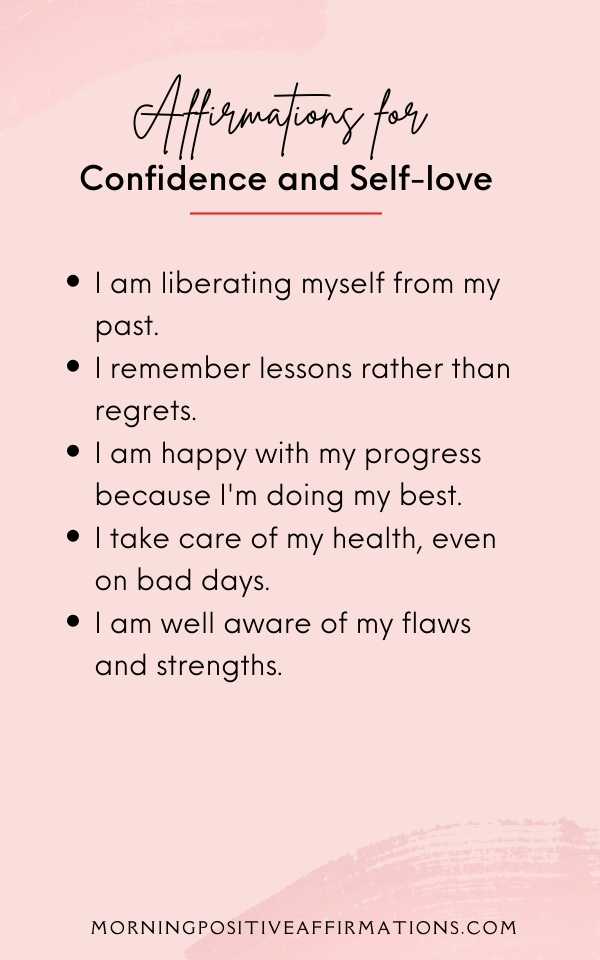 I refrain from blaming myself for everything that goes wrong.
I am beautiful and deserving.
I will treat myself with the utmost kindness.
I love my persona and its uniqueness.
My life is unfolding in more beautiful ways than I imagined.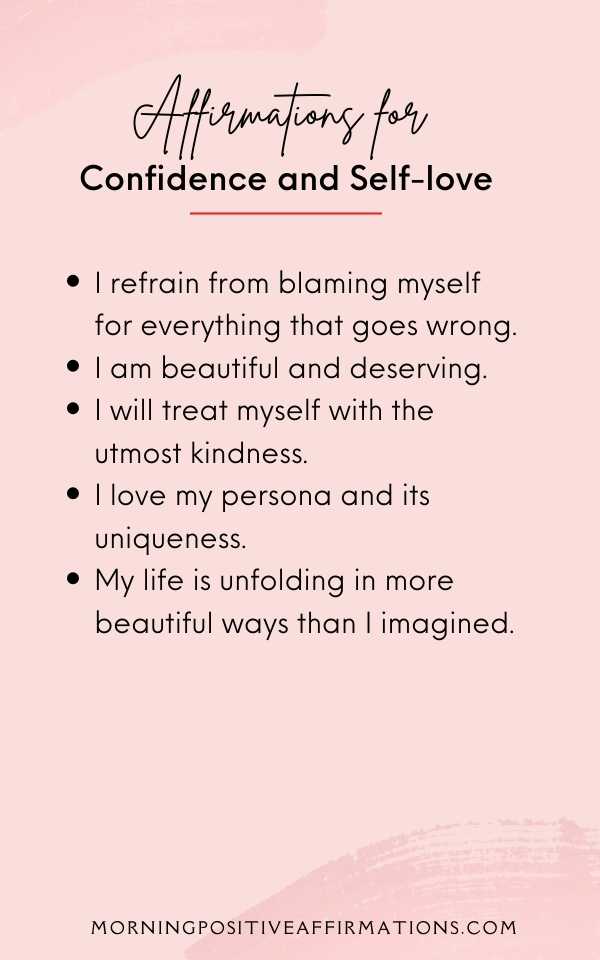 I believe in being unapologetically myself.
I am letting go of uninvited judgement and criticism.
I respect my boundaries while also appreciating my capabilities.
I am at peace with the way In ook.
I carry myself with confidence.
My confidence makes me look gorgeous.
My skin is just beautiful the way it is.
I weigh inner beauty over external appearance.
Self Confidence Affirmations
I start my day with optimism and confidence.
I feel energetic and look forward to taking on new activities.
I can share my views confidently.
I compete with myself rather than others.
Confidence starts with a smile.
I practise a strong presence of mind.
I am capable of staying calm and composed in challenging situations.
I speak less, and that reflects my confidence.
My confidence makes my skin glow and my soul shine.
I strongly believe that I rise by lifting others.
It is okay to feel a little underconfident on some days.
My heart is filled with gratitude.
I wish good for everyone around me.
I respect their choices while also staying firm on mine.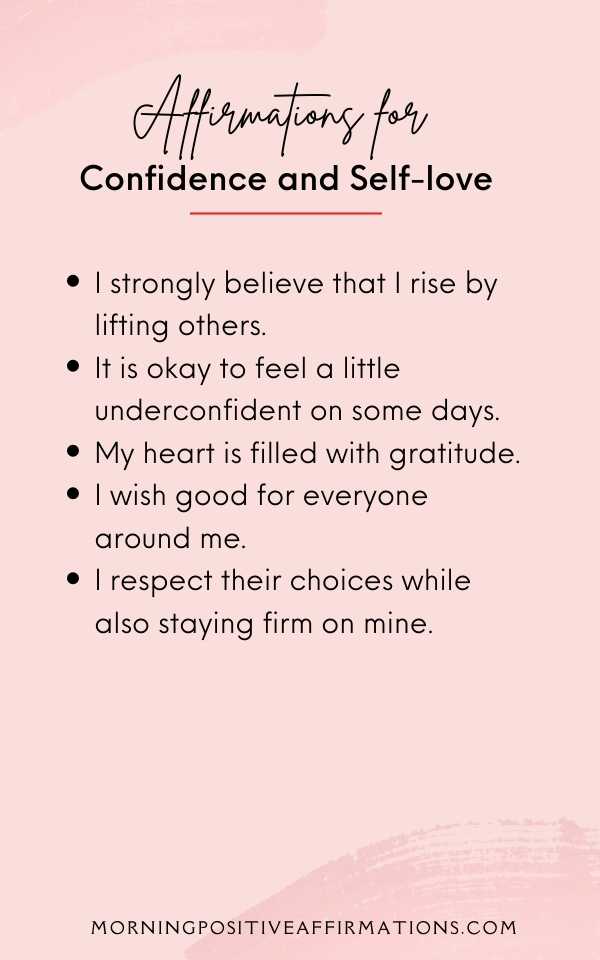 I recognise the importance of flexibility and hence welcome new inputs.
Self-confidence is my road to prosperity.
I am open to identifying and accepting my flaws.
I am shielded from all the negativity.
I believe that we all grow at different paces, and that's okay.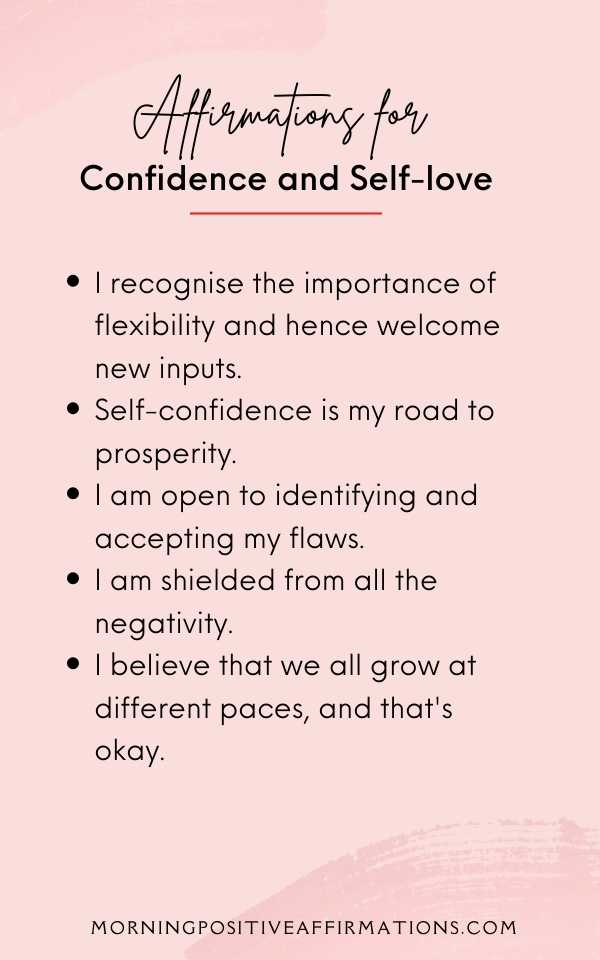 My intuition is my guiding light.
I take complete control of my thoughts, words, and actions.
I am keen on taking up new ventures.
I either succeed or learn, and I'm ready for both.
I start every day with a clean slate and a new enthusiasm.
I will take my time to feel better.
I avoid rushing but deal with patience.
It's okay to take a rest whenever I feel overwhelmed.
I admire myself for the way I am, but I am also willing to get better.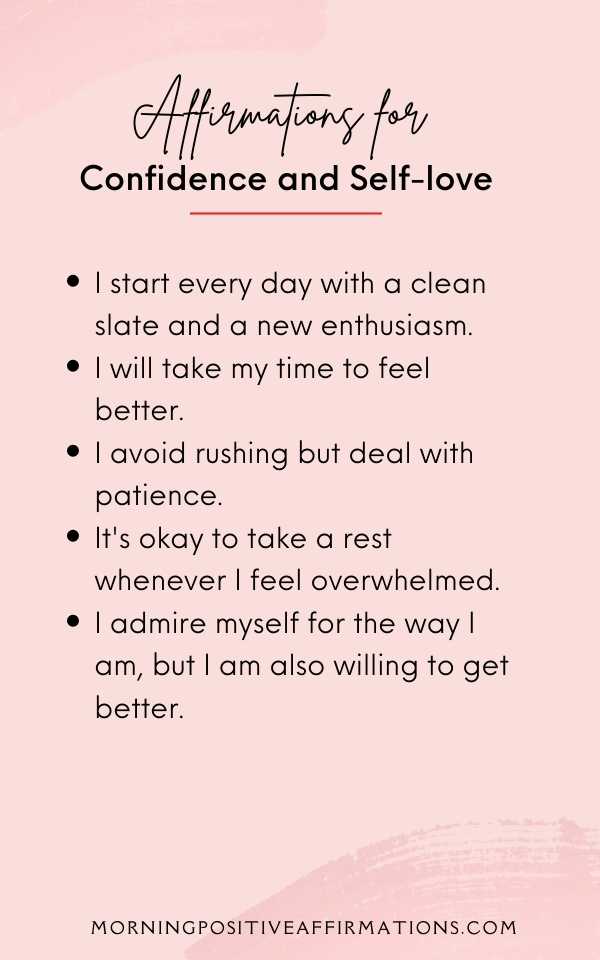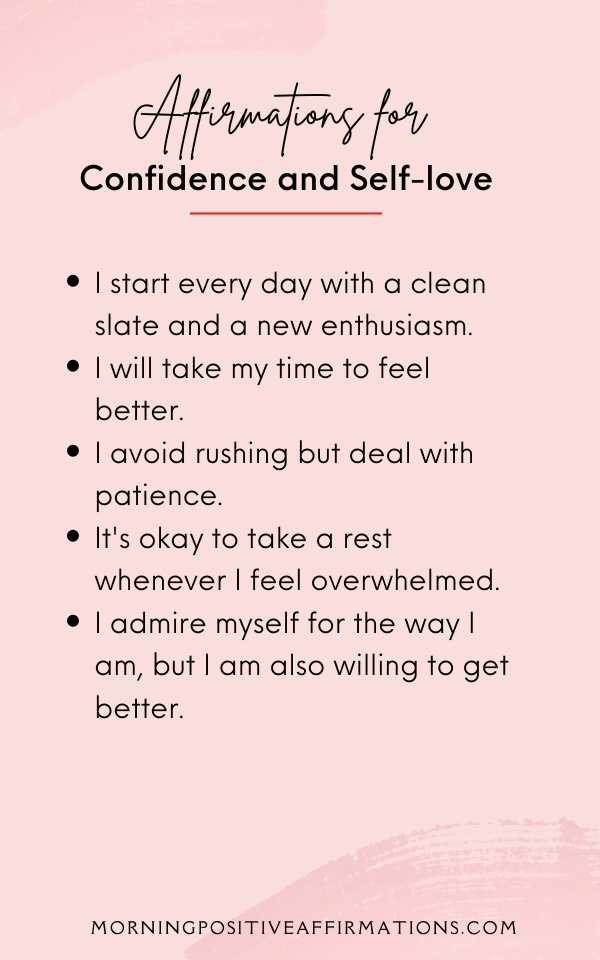 I enjoy trying something out of my comfort zone.
I find peace in helping those in need.
Self Esteem Affirmations
I am capable of fulfilling my aspirations.
I am confident about my innate potential.
Regardless of obstacles, I will focus on my positive thoughts and actions.
My efforts will reap success very soon.
My belief in myself deeply heals me.
I deserve the affection that I treat others with.
I am worthy of forgiveness.
I enjoy communicating with people.
I can speak well in front of a large crowd.
I can solve my problems single-handedly.
I evaluate myself rather than doubting
I am working towards a brighter future while being content in my present.
My aura reflects my positivity and self-belief.
I radiate courage and positivity wherever I go.
I like to stay motivated and inspire others.
Feeling low and cloudy is natural.
I stay away from toxicity at all times.
I prioritise my wellness before material success.
The Bottom Line
Confidence and self-love release you from the fetters of precariousness, anxiety, and depression. By recognising and practising these qualities with the help of affirmations for confidence and self-love, you can improve the quality of your day-to-day life, cut stress, enhance productivity, and keep at peace.
That said, it is also very natural for us to feel a little under-confident at times. In fact, it's necessary because there isn't a better way to bounce back stronger. So, slow down, be kind to yourself, take some time to sink it all in, exercise daily affirmations, and redirect your vision towards learning and growth.
Frequently Asked Questions (FAQs)
What Is The Difference Between Self-Esteem And Confidence?
Self-esteem and self-confidence are often used interchangeably. However, there is a small yet significant distinction between the two terms. Self-esteem entails the value or importance you attach to your inner self.
On the other hand, self-confidence refers to your belief in yourself and your capabilities, even in adverse situations. While some of us naturally possess these qualities, others develop them following certain challenges, learning experiences, and practices, such as exercising self-confidence affirmations.
How Self-Esteem Is Key To Success?
Self-esteem impacts your life in more ways than you can imagine. It shapes your personality and influences your decision-making capabilities, personal and professional relationships, and your emotional well-being.
It fuels your motivation to dream bigger and achieve greater things in your life while keeping self-doubt at bay! Therefore, you must strongly consider reciting Self-esteem affirmations every morning.
Can Affirmations Help With Self-Esteem?
Self-esteem affirmations help in developing a deep sense of assurance about your worth and quality as a personality. It helps you set standards in your life, whether it is about career goals, relationships, or any sort of expectations. They can also aid in eliminating feelings of panic, anxiety, stress, and self-doubt.
Can Affirmations Change Your Mindset?
Reciting daily affirmations help you develop a positive and growth mindset by suppressing your negative thoughts. It lets you reaffirm your self-belief and keep progressing in life despite the challenges. Affirmations also enable you to develop a solution-oriented approach in life.
Are Affirmations Part Of Self-Care?
Self-care does not only involve looking after your physical well-being and external appearance. It also implies taking care of mental well-being, and affirmations certainly help you with that. Self-care and self-confidence affirmations allow you to create a positive outlook towards yourself and life in general, and the effects are undeniably long-lasting.
Also read: 50+ Morning Positive Affirmations For Nurses