Our lives are guided by our thoughts. What we think, we become. Today is a new day – start it with positive affirmations that will help you achieve your goals.
There are opportunities ahead that we can work to achieve. We can choose to be positive and hopeful, or we can allow our thoughts and emotions to get the best of us. But no matter what happens today, know that I am with you every step of the way.
Here are some powerful daily morning affirmations for women.
I am Morning Affirmations For Women
I am happy.
I am beautiful in my skin.
I am grateful for where I am today.
I am glad for whatever I possess.
I am special.
I am complete in myself.
I am worthy.
I am the creator.
I am confident.
I am conscious and present.
I am love.
It's okay to be me.
I am peaceful and relaxed right now.
I am taking care of myself today.
I am bold.
I am standing by my side.
I am enough.
I am abundant.
I am blessed.
I am grateful for the good and bad times in my life.
I am worth more than my past, and I am capable of so much more.
I am brilliant, powerful, and deserving of all that life has to offer.
I am capable of anything I set my mind to – let's go get it!
I am loved, appreciated, and respected by others.
I am talented and capable of much more than I think possible.
Self-Belief Morning Affirmation for Women
I believe in myself, and that is all that matters.
Everything will happen as it should – this is my perfect moment.
Today is a new day, and I will start fresh with positive thoughts.
My goals today are 100% attainable as long as I take action to achieve them.
Every problem can be solved if I put my mind to it and work hard diligently enough to pursue solutions.
Everyone makes mistakes sometimes – that's how we learn and grow!
It's okay to feel scared or unsure of myself at times, but never let fear keep me from achieving anything great future-wise.
Whatever happens today is only a minor detail in the grand scheme of things, and there are far greater things waiting for me tomorrow!
Everything will be okay – I know this because it has always been this way.
Every day is a new opportunity to learn and grow, and I embrace the challenge ahead with enthusiasm.
I accept myself just the way I am, flaws and all.
My goal for today is to be my best self, happy, healthy, and fulfilled in every way possible.
My life is rewarding and full of joy.
I take care of myself physically, mentally, emotionally, spiritually, and in all other ways possible!
All my flaws are part of me – they make me who I am.
Achieving my goals doesn't mean sacrificing everything else in my life; it means balancing everything out so that everyone gets what they need/want.
The universe has always been on MY side; all I have to do is trust in its divine plan.
Powerful Morning Affirmations For Women
I CAN do anything I set my mind to.
Creating elegant and beautiful things is within reach for me, as is any other goal I desire.
Everything that has ever happened to me was meant to teach me a lesson, but now it's time for me to go beyond what I've been told and learn from the experience on my own terms.
All of life's challenges are opportunities in disguise – let's embrace them with courage, faith, and determination!
I always succeed in the end.
I understand and honor myself enough to be patient and trust that positive steps are being taken every day for me!
I love myself enough to accept constructive criticism without being defensive or resentful of it.
I know that I can always improve, even if the journey seems bumpy at times.
I am capable of great things.
I forgive myself for past mistakes.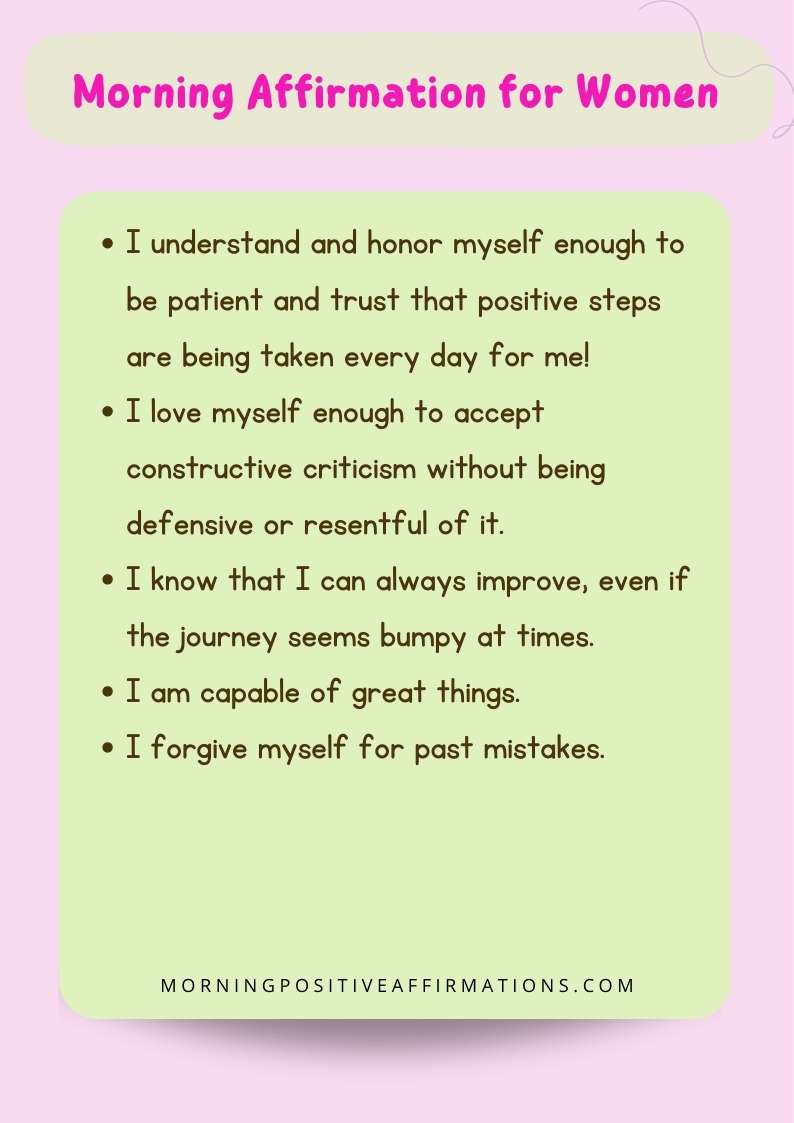 My happiness lies within my control.
I will do everything in my power to find fulfillment and joy in all areas of my life.
I live in the moment, and everything else can wait until later.
Everything that has ever hurt me has happened because I was too afraid or lazy to confront it head-on.
Today, I will be brave enough to face my fears and doubts.
Nothing can stop me from achieving my goals!
Everything that gets in my way will be cleared away – no matter how challenging it may seem at first glance!
Everything that has ever happened to me was an invaluable learning experience that made me stronger.
I know who I am and where I'm going – everything else is irrelevant right now!
My intentions are always good.
Everything that happens in my life is an important lesson that I can use to become stronger and wiser.
Life is full of exciting possibilities, which I will seize with both hands.
Every moment counts, so let's live fully today!
Daily Morning Affirmations for Women
My dreams and ambitions are within reach.
I am in control of my life, not my circumstances.
I have strengths and weaknesses, but I am capable of dealing with them.
Today is a new day, and my old mistakes are behind me.
My mind and body are mine alone. I can control them both.
I take charge of my life, decisions, and future.
All my fears are irrational and baseless.
I am excited about what lies ahead.
Thank you for seeing me as I truly am.
My potential is endless.
Life is beautiful and full of mystery, waiting for me to discover it all!
My dreams are fueled by my desire for something greater, not by fear of failure or rejection.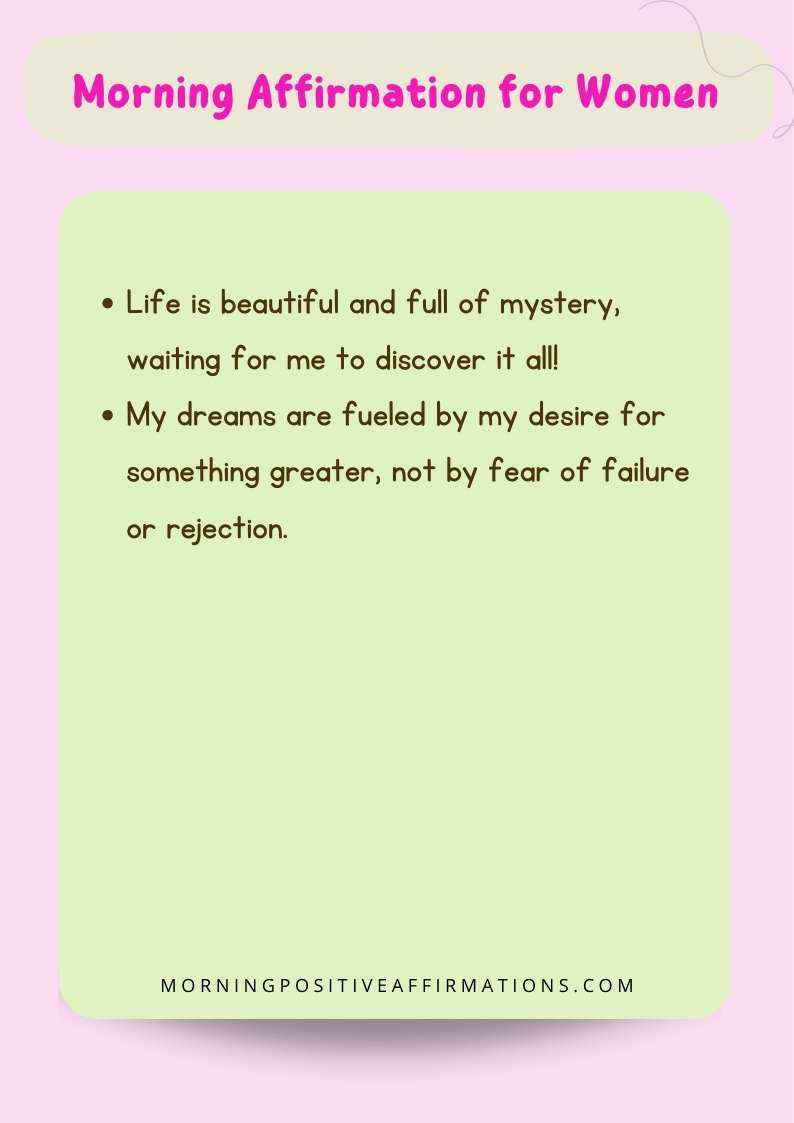 Morning Positive Affirmation for Women
My body is healthy. My mind is healthy. I am ready to start the day!
I radiate positive energy and vitality.
I am filled with energy for all the daily activities in my life.
I love to smile; it is my gift to the world.
I am healthy, happy, and radiant.
I have abundant energy, vitality, and well-being.
I will find joy in everything I do.
I feel happy today. I will share my happiness with others.
I choose positivity. I choose happiness. I see both all around me.
I am grateful for the lessons I will learn today. I am grateful for learning new skills.
The Bottom Line
Thus the positive morning affirmations for women. Hope these daily affirmations help you become confident, successful, and brave. Above all, let this affirmation make you fall in love with yourself.
If you found these daily morning affirmations for women meaningful, do share with your loved ones.
Also read: 70 Morning Alpha Male Affirmations To Take Charge Of Your Life