How beautiful would life be, if you could make sure that we have an incredible day!
Well, you can, by simply practising morning affirmations for an incredible day. Morning affirmations let you feed your mind with affirmative thoughts right before you start your day so that you can move ahead with a fresh, lively, rejuvenated, and absorbent mind.
Daily affirmations are simple phrases, mantras, quotes, or phrases that you can recite, write, repeat in your mind, or even listen to. It keeps you in a happy and optimistic state of mind. Beginning your day with positive affirmations impacts your mood and productivity for the rest of the day. They spark life into your dull thoughts and make you feel enthusiastic and optimistic for the day.
In the following sections, you can find some of the most soothing and meaningful morning affirmations for an incredible day.
Morning Affirmations for an Incredible Day
I feel refreshed, fit, and powerful today.
My mind, body, and soul are in a state of sheer bliss.
I am willing to work further on things that uplift my mood and quality of life.
I am excited to accomplish the tasks in the pipeline.
I believe today is a gift and I am unwrapping it in the most pleasant ways.
My intuition is that today is going to be a wonderful day.
I look forward to what's in store for me, whether it is joy or challenges.
My soul feels liberated as I start my day.
I will make someone smile today.
I will help someone in need today.
I feel energetic and positive at this moment.
My thoughts are positive, and so is my day.
I feel gratitude in my heart for being able to experience the beauty of this day.
I will avoid procrastinating and fulfil my duties on time.
I will spend this day with a smile.
I see positivity and meaning in every situation!
I am strong and I am enough to make a beautiful day for myself.
I am responsible for my state of mind.
I am immune from darkness because the light is within me.
I am ready to work hard to achieve my goals for the day.
Daily Affirmations to Start Your Day
Kindness is my way of life.
I believe in being kind to myself and others as much as possible.
I feel confident about my skills, knowledge, and capabilities.
I am tackling my vulnerabilities with utmost ease.
I have everything I need to turn this into an inspiring day.
Resilience and patience are my ultimate strengths.
Self-love and self-care heal me from within.
I will feel best the rest of the day as I am feeling right now.
I feel loved and appreciated.
My wisdom allows me to make lucrative decisions throughout the day.
I am grateful for all the magnificent things that are coming my way.
I am backed by the universe and it is taking care of me.
Being grateful for my life makes me feel calm and healed.
I am attracting blessings just like I have attracted this lovely day.
I let go of everything that happened yesterday and start my day with a new zeal.
I am listening to the soothing sounds of the universe.
I am appreciative of the blessings and love I receive.
My life is improving with every passing day.
I prosper through positive thoughts and actions.
I embrace the presence of generous people in my life.
I am connecting with nature on a deeper level every day.
Today my knowledge is greater than yesterday.
Each day comes with its own uniqueness.
Each day, I am becoming increasingly aware of myself.
I simply trust that everything is happening for a beautiful reason.
I treat others with empathy and love without any bias.
I see opportunities in threats and light in adversities.
I am shining brighter than yesterday.
My life is becoming more abundant than I had imagined.
I learn interesting things from everyone I meet.
My life is the most valuable gift and I will treasure it at all times.
Gratitude makes my day bright and worthwhile.
Nature favours me when I respect it.
My smile is a way of thanking the astounding life I'm living.
Life is a bundle of small goals that we strive to achieve each day.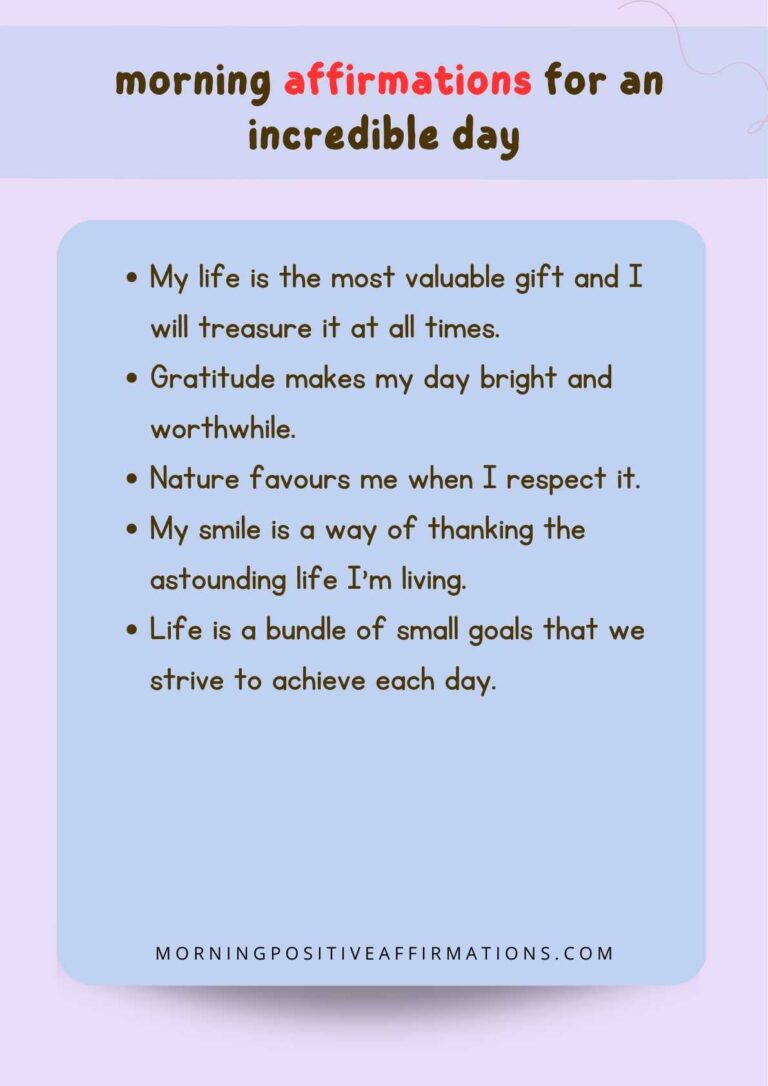 Wrapping Up
Each day is a new chance to work things out in a better and more desirable way. It is a splendid reminder that you can fulfil your dreams and aspirations just as you'd like. Morning affirmations for an incredible day are an effective way to further this thought. It helps you feel assured that you can make it a great day, meet your targets, feel at your best, and handle everything patiently.
So, hold on to positive affirmations, filter out negativity, and take your first step towards creating incredible days!
Frequently Asked Questions (FAQs)
Q1. What are the most powerful affirmations to tell yourself every day?
Here are some of the most effective morning affirmations for an incredible day –
I am capable of handling everything.
I love myself for the calm person I am becoming.
Every day is a stepping stone towards greater success.
Perfection is a journey, not a goal.
My emotions are in my control and I can manage them beautifully.
Q2. Do morning affirmations have a long-lasting effect?
Yes, if you recite morning affirmations for an incredible day daily you will soon achieve long-lasting results. Affirmations shape your mind in a way that it gets inclined towards positive and grateful thinking even during testing times.
In other words, it triggers your subconscious mind into positive action. Additionally, it helps in curbing anxiety issues and makes you feel composed.
Q3. Is self-esteem important for having an incredible day?
Yes, it is important to have higher self-esteem if you want your days to be stress-free. Self-esteem allows you to set your boundaries and expectations. It lets you feel happy and content wherever you are in life. If you are grappling with low self-esteem, don't lose heart. Consider practising morning affirmations for an incredible day to boost your self-worth.