The best part about affirmations is they are super flexible and free of cost. You can write them on sticky notes to set on your walls/mirror, or you can just add them to your phone for some daily dose of encouragement.
Affirmations help us use the power of positive words to reshape our mindset. There's nothing that affirmations can't help you with. Starting right from confidence building to self-awareness, positive affirmations have the power to change your life completely.
Why Are Affirmations So Important?
Each one of us faces multiple failures and threats to our self-worth every day. It seems then that to be ourselves in this big world is nothing but a huge task. There are days when life feels worthless, and we tend to feel empty.
Positive affirmations in these tough scenarios are the best and cheapest way to keep you going. Not only will they help you overcome fear, but you will come out as a more confident, stronger, and more assertive version of yourself.
The kind of power that affirmations hold, you will not find it in any self-help books or quotes.
How Affirmations Help In Self Awareness
The only reason behind feeling low or out of place is that you are probably unaware of how powerful you are. When self-competence meets with resistance, you tend to beat yourself down, which eventually becomes the reason for your downfall.
Self-affirmations help you restore self-competence by allowing you to reflect on sources of self-worth. They help you bring self-awareness into your consciousness, and you automatically start shifting towards bettering your perception of yourself.
Once you are aware of your capabilities of overcoming fear, anxiety, and many more adversities in life, you become unstoppable. And affirmations precisely help you do that.
What Are Affirmations?
Affirmations help you maintain a positive self-view and affirm your self-worth. You can tell yourself these words every day to have a completely different life. The life that you always wanted but could not have due to a lack of confidence, awareness, and courage.
If you fill your mind with positive words every day, you become a positive version of yourself. Still, if you treat yourself with harsh and negative words, your life goes upside down, and you end up becoming a negative person who is always surrounded by fear.
Positive affirmations broaden a person's overall perspective about life and reduce the effect of negative emotions/thoughts. They help you focus on your core values and rewarding experiences.
Here are some positive affirmations for self awareness you can practice on a daily basis.
Positive Affirmations For Self Awareness
All aspects of my being are vibrant and alive.
My thoughts exist because I allow them to exist.
All that I seek is within me.
Being self-aware in life is my top priority.
I will keep practicing self awareness.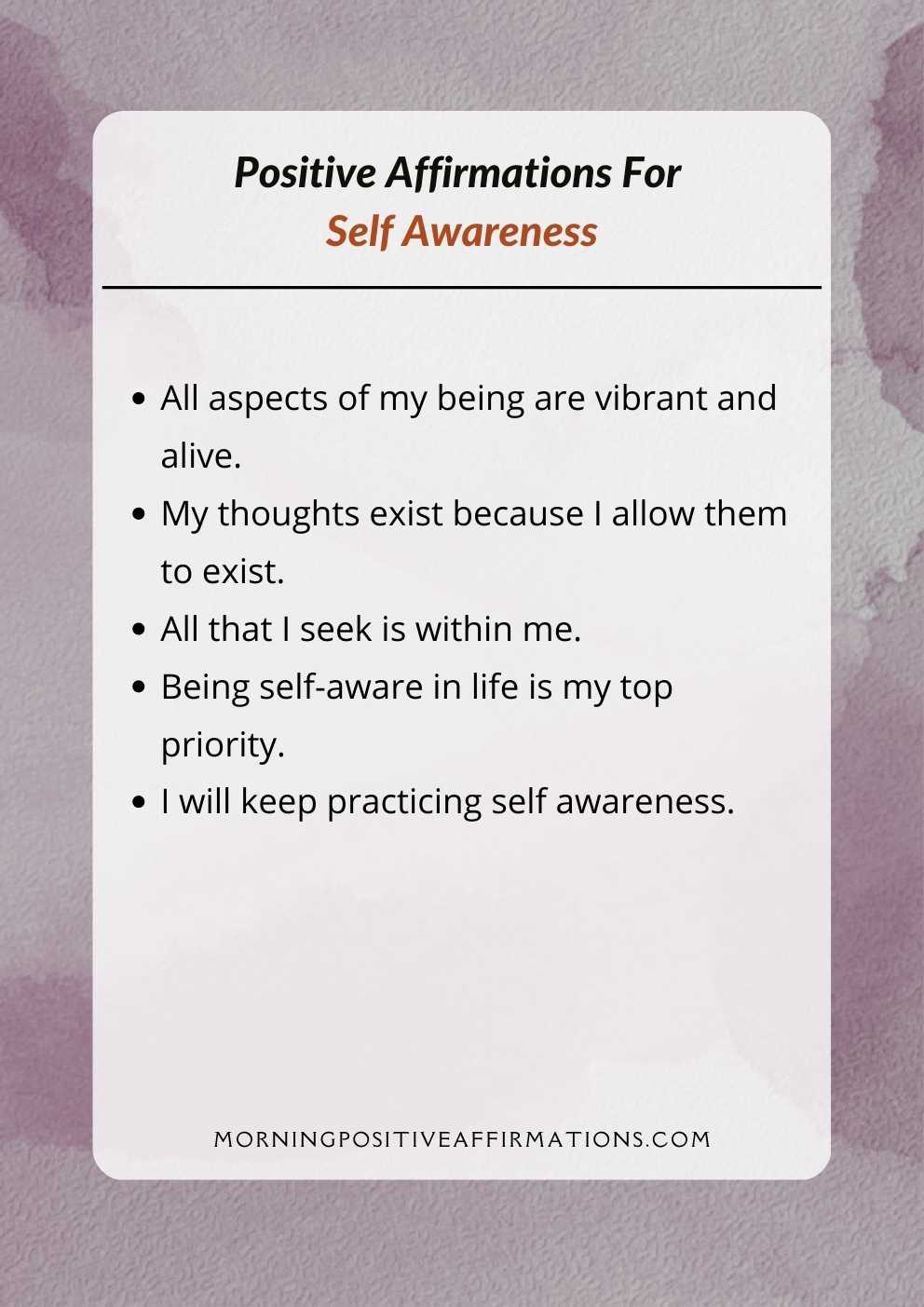 My voice is always heard when I speak.
I know myself.
I always have a choice.
Awareness of what I am not allowed me to remember who I am.
I allow my truth to reveal itself as creativity and confidence.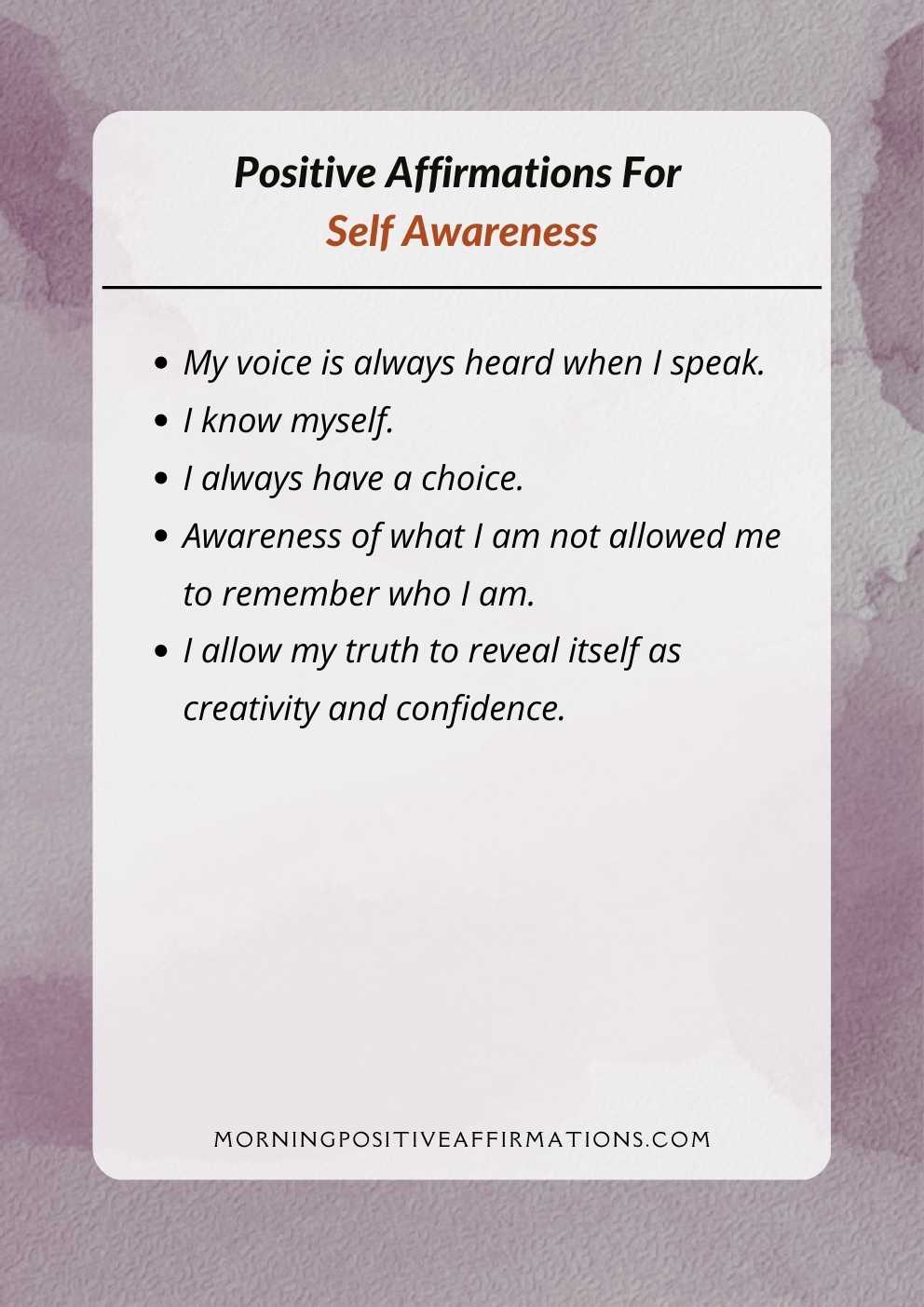 I let go of my past and concentrated on the present and the future.
I am aware and conscious of my thoughts and emotions at all times.
I will quickly let go of bad feelings and focus on the now.
I will not hold on to my mistakes and move on.
I remove myself from all negative people and influences.
Morning Positive Affirmations For Self Awareness
Challenge yourself, trust yourself, and expect the best from yourself.
I love myself unconditionally.
Loving myself and others makes me feel very good.
Every challenge I face makes me stronger and wiser.
Every day I become more aware of my inherent talents.
Each day I discover more of what makes me exceptional.
Every day I discover more talents that I possess.
Every day I appreciate and acknowledge myself more.
I will always try to understand myself better.
I accept every experience in my life as a path to growth.
I take full responsibility for my actions.
I am responsible for all the results in my life.
I love to be myself in all things I do.
I alone decide who it is I aspire to be.
I independently define who I really am.
I determine the direction and quality of my life.
Morning Affirmations For Self Awareness
I am a fully conscious participant in life.
I am fully aware of the choice I make.
I know what talents I possess, and I will continue to discover more.
I will keep learning new things about myself.
I appreciate myself for all the skills I have.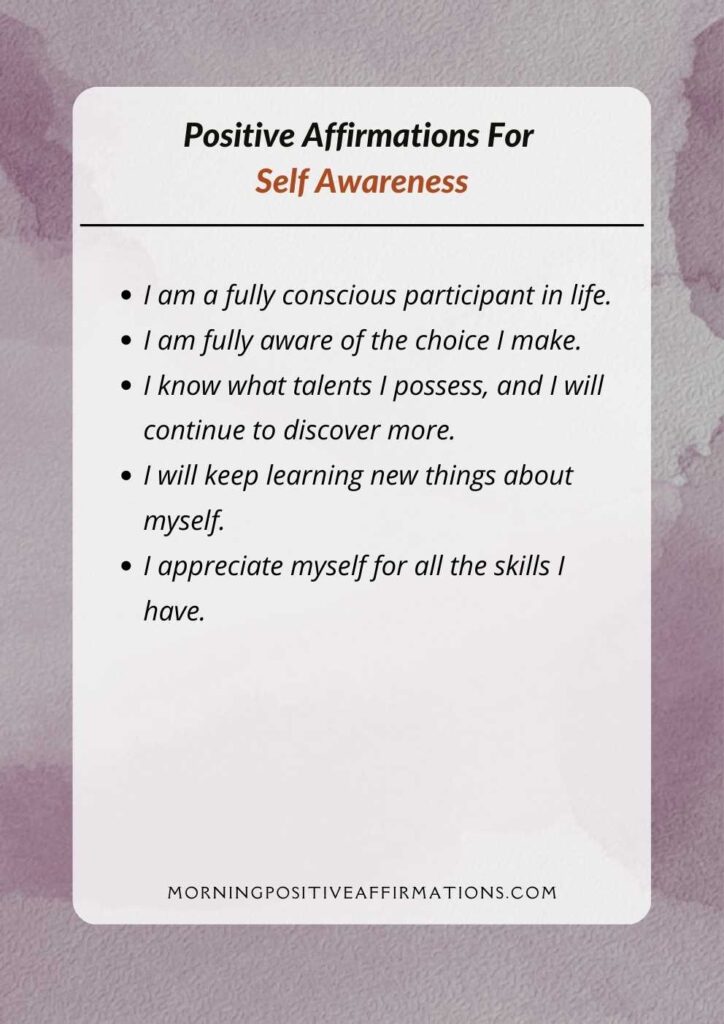 I am here and here now.
I am in control of everything I do and say.
I have control over my mind.
I enjoy being myself.
I am very comfortable just doing nothing.
I am the architect of my life.
I am totally content with my life.
I become what I practice every day.
I carefully monitor my self-talk.
I define the pace of my life.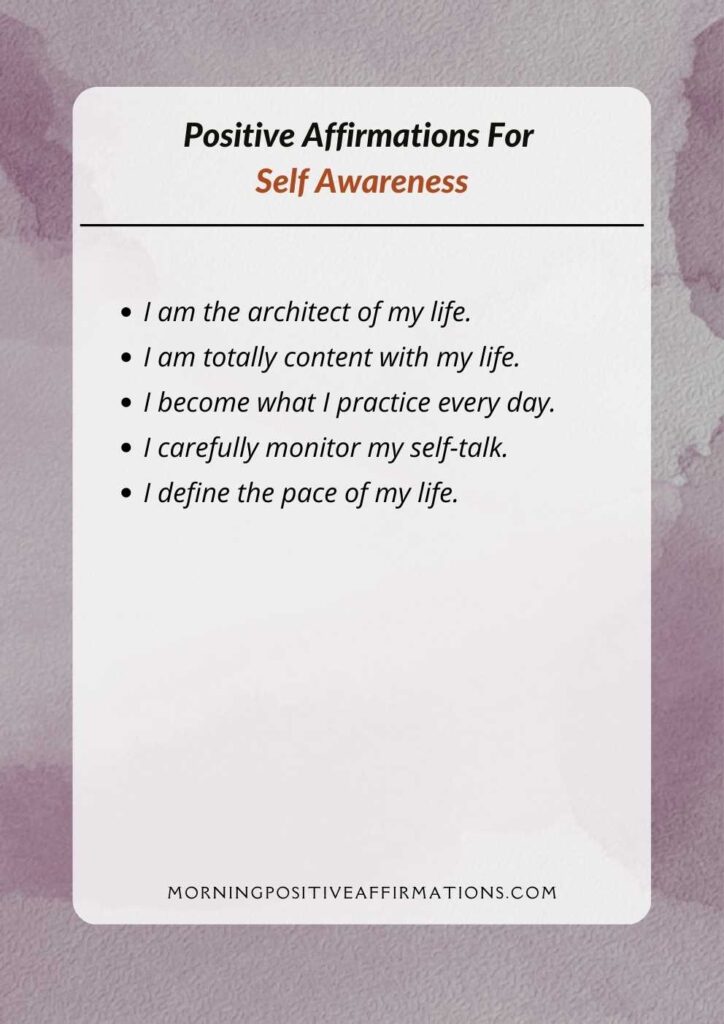 I find peace and harmony in my own space.
I give myself a break when I need it.
I hold the key to my destiny.
I know everything originates in my mind, and I can control it.
I know that I am the only one who can change my life.
Powerful Self Awareness Affirmations
I know what I want in my life and strive towards it.
I know what motivates me and employ these tools often.
I know when to take it easy.
I know who I am, and I know what to believe in.
I trust my gut.
I make full use of my inherent talents and skills.
I pamper myself whenever I feel the need to do so.
I pay attention to my thoughts and feelings.
I rest whenever my body tells me to.
I search within to discover that which blocks my progress.
I strive to be aware of my thoughts and feelings all the time.
I am honest with myself, and it makes me feel better.
Every challenge I face makes me stronger and wiser.
Every day I become more aware of my inherent talents.
Every day I discover more of what makes me exceptional.
The Bottom Line
Affirmations are the best but only when you are fully aware of yourself. To follow these positive affirmations, you need to understand your abilities, your strengths and weaknesses, your behavior, and a lot more. You can bring awareness into your life using affirmations and use them even after self awareness hits you.
Positive affirmations help you with everything that helps you grow and glow. You just need to follow them consistently, and you will witness the results in no time for sure.
Also read: 50+ Morning Positive Affirmations To Have A Good Day