Are you familiar with Yoga? How often do you get on the mat? People who religiously practise Yoga can vouch for one thing: the mental and physical relief they get after going on the mat is hard to find outside.
Now, Think of the time when you wake up after a good night's sleep and take a long stretch. You can feel the tension releasing in your body. You can feel it diffusing into the air around you.
But positivity is more mental than physical. Then why don't we choose to relieve our mind much? Why don't we decide to reaffirm and declutter it often? This blog will discuss 70+ positive affirmations to block negative energy and promote a positive mindset.
Positive Affirmations for Negative Energy
Self-talk and actual talk are two different things but are interlinked. What you feed your mind with self-talk is heavily reflected in your actual conversation with people.
If you tend to indulge in negative self-talk, it can affect your relations with yourself as well as others.
You can take the help of the below-mentioned affirmations and try to frame your own affirmations, or you can simply try to incorporate these into your daily routine to let go of negativity and promote your physical and mental well-being.
Today is a "Tabula Rasa".
I trust that the universe is working in my favour.
I am gentle with myself and others.
I welcome the lessons that God has planned for me.
All you need to fear is fear itself.
I love myself and accept where I am.
I trust myself and my decisions.
I have faith in God's plan.
I am enough.
I am committed to my dreams.
I can and will think about my problems and work through their solutions in various ways.
I am more in tune with my positive energy.
Positive thinking makes me calm and lifts up my mood.
I can see myself getting closer to joy and abundance.
I am grateful for everything that God has given me so far.
Powerful Affirmations to Block Negative Energy
My peace is within.
I am in control of my mind and hence, my life.
I am worthy of joy and success.
I am capable of creating and living the life of my dreams.
I am worthy of the same compassion that I give out to people.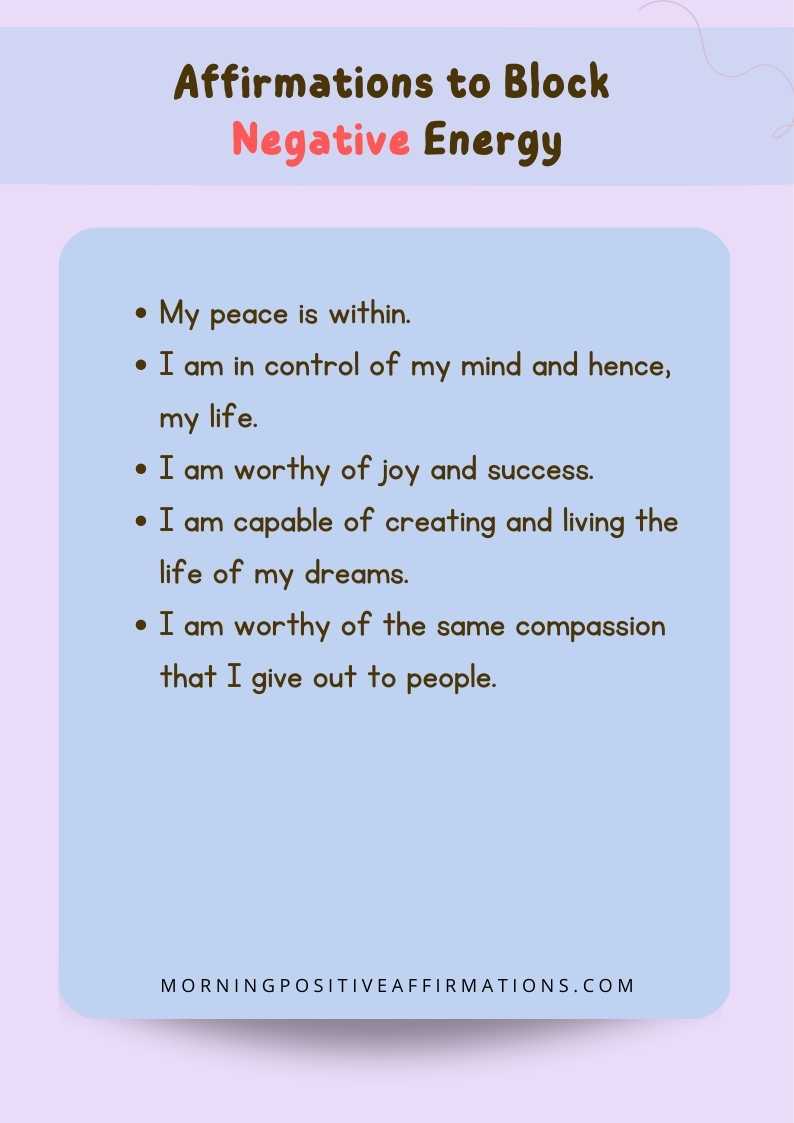 I deserve love and respect from people.
I thank God for the blessing that he has bestowed upon me.
I can see my life full of opportunities ahead of me.
I let go of my expectations of others and others of me.
I let go of the need to replay situations in my head multiple times after it has ended.
I will always have my back.
I will act on turning every possibility into an opportunity.
I see my successful, fantastic future.
I will act on my negative self-talk and turn it into positive affirmations.
Negativity, you will have to leave in my presence.
Morning Affirmations to Block Negative Energy
I speak life into my work and vision.
Today, I will add value to my life.
I let my inner light shine today.
I can not allow my negative thoughts to dictate my decisions.
Today, I manifest my dreams into reality.
I cannot allow myself to be bogged down with negativity.
I trust God to lead the way for me.
My positive thinking is as powerful as I make it to be.
My positive light is more powerful than these negative thoughts.
I am a valuable human being.
I give myself permission to let go of my negativity.
I am a unique mix of positive energy and affirmation.
"I choose" Negative Energy Positive Affirmations
Positive affirmations can have a deeper impact on your mind if you start them with these two words.
"I choose" gives you a sense of control.
It shows that you can choose to make changes in order to achieve your goals and live the life that you want.
It shows that the power lies in your hands, and the day you decide is the first day of "Era Novum".
I choose to focus on the positive aspect of everything.
I choose to clear my mind of negative thoughts.
I choose to release negative feelings like jealousy and anger.
I choose to let go of negative memories and hold tight to the positive ones.
I choose to liberate myself from the negative thoughts of people that hold me back.
I choose to give time to heal myself.
I choose to focus on the present and live in the moment.
I choose to take charge of my thoughts and life.
I choose not to waste another moment on negative thinking.
I choose not to waste my time on negative thinking.
I choose to be happy today, tomorrow and every day after tomorrow.
I choose to surround myself with love, light and positivity.
I choose to trust my intuition and inner wisdom.
I choose to surround myself with supportive and positive people.
I choose to forgive people without receiving any apology.
I choose to forgive myself for my failures and mistakes.
I choose to liberate myself from others' ideas of success and good life.
I choose to be gentle with myself and others.
I choose not to control anything and let it take its general course.
I choose to commit myself to changing my thoughts in a positive direction always.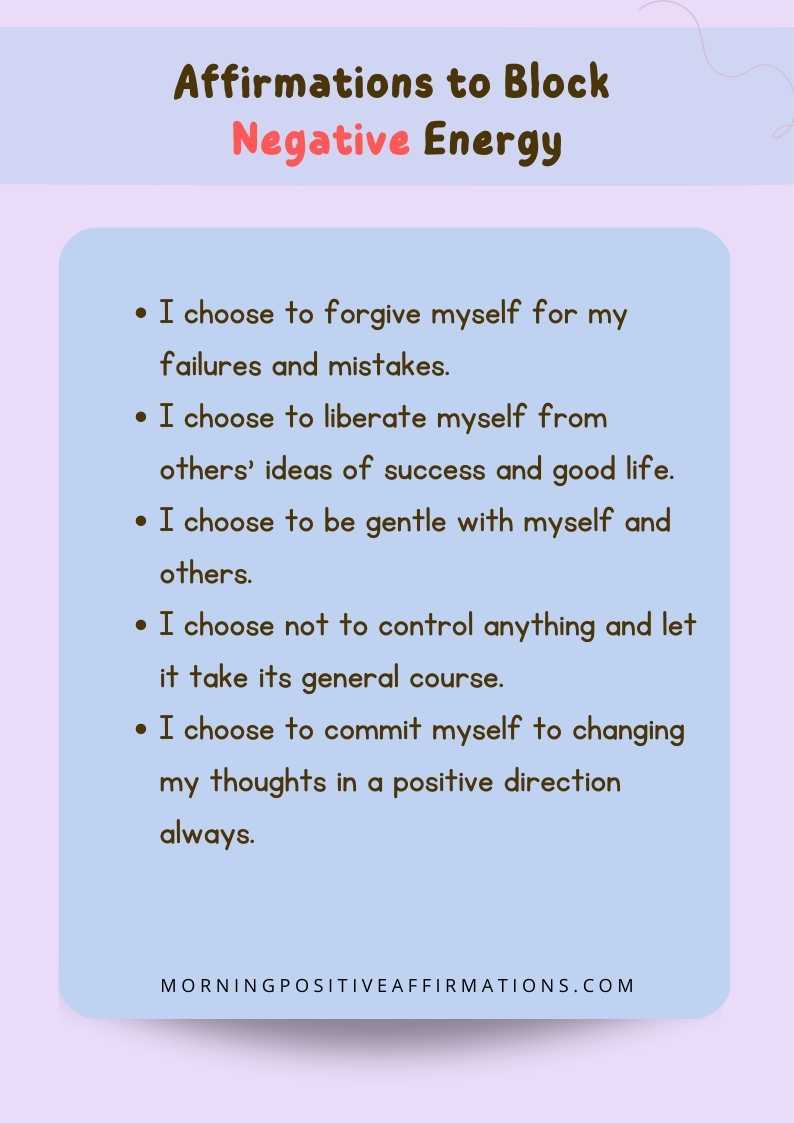 I choose not to overthink.
I choose to leave all my worries to God.
I choose to welcome fine health and positivity.
I choose to be the winner today.
I choose to fail today in order to succeed tomorrow.
I choose to unplug and recharge regularly.
I choose to focus on my own growth and well-being today.
I choose to respond more and react less.
I choose to always have confidence in my backpack and unpack it whenever I need it.
I choose to look at myself in the mirror and love what I see.
How To Use Positive Affirmations For Blocking Negative Energy
There are several ways you can try to incorporate positive affirmations in your daily routine because the main idea is to make it a part of your everyday life, a habit.
You can try and jot it down to start off your day in a positive manner.
You can also paste them in places where you can read them in passing.
Learn to recognise when you start to fall into the rabbit hole of negative self-talk and use positive affirmations to pull yourself out of there. This is one of the most effective ways of incorporating and practising positive affirmations. Be consistent with this practice.
Repeat positive affirmations several times a day.
Having a vision board is also a part of positive affirmations. It will keep reminding you of where you want to reach and how to work out a plan to reach there.
Practise meditation for at least a few minutes. Chanting "OM" or feeding yourself affirmations can easily lift your mood and fill you with positivity.
Final Thoughts On Negative Energy And Affirmations
Negative energy is not something you can fully escape.
Even the most positive people you know experience bouts of negativity. But they know how to recognise this negative cycle and pull themselves out of it with positive affirmations.
It's an art, and they have learnt it with repeated practice. Hang in there! Be consistent, and you will find yourself getting out of this negativity quagmire!
Also read: 70+ Positive Affirmations To Stay Calm